Hardcover Photo Books - Fresh From Memories To Pages
Nowadays, it's impossible to enter a restaurant or approach a tourist attraction without running into someone taking a photo on their phone and sharing it with the world. The entertainment value is undeniable, and it satisfies our need for immediate gratification, but what about in a year, ten, twenty, or thirty years?
All of your photos and those priceless moments on your phone will be lost long ago. Only a high-quality photo book can capture, preserve, and share with the people you love in your life's greatest moments.
For any occasion, hardcover Photobooks make the perfect gift. The names or images of your loved ones can be added to make them a special way to keep memories alive. For capturing, sharing, and preserving the best moments of your life with the people you care about, nothing compares to a good photo book. Best Photo Books Online is a great way to preserve memories.
You can make a photo book detailing the events of the recipient's wedding day or the first year of a baby's life. Think about including all of the recent trips you've taken with the recipient. A photo book makes it easy for those who are certain of what they want because there is no question that the recipient will love it!
High-quality photo books are bound using the case-binding technique, which will preserve your photos for many years. The pages are semi-gloss, so fingerprints won't be visible on them. We'll help you arrange your photos so they tell your story in the best possible order. Any required photo editing will be taken care of by our professionals for you. This photo book, which is 27 x 27 cm in size and is made to the highest standards, has 40 sheets of 180gsm laminated photo paper, is laminated, and is bound with PUR perfect binding. We add a picture, the title, and the date to your hardcover book to make it more unique. Your message will be included as well.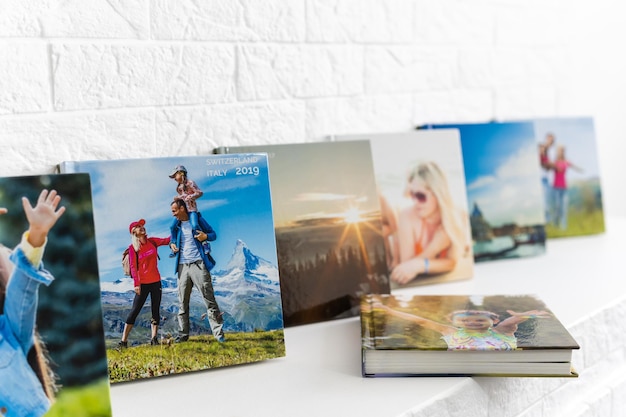 Simply choose your favourite photos, and we'll take care of the rest to create your personalised Professional Photo Book! You can remember the most significant events in your life with a Hard Cover Photobook. There is no better way to relive your favourite moments than to flip through a printed photo book and see a picture for the first time. With a minimum purchase of AED 100, shipping is free. Delivery takes two days in Dubai, Sharjah, and Ajman. Delivery takes three days in Abu Dhabi, Al Ain, UAQ, RAK, and Fujairah.